Community Service Projects
ELFA Gives Back: Our thoughts go out to everyone who has been impacted by Hurricane Ian and in the ELFA tradition of giving back, a portion of every convention registration will be donated to storm relief. In addition, we are exploring opportunities for a community service project in support of those impacted by the storm.
Build-a-Guitar®
Sunday, October 9
2:00 – 4:00 p.m.
Playing music can have a very positive effect on young people. High-quality instruments are needed by students in schools and by local organizations. Build-a-Guitar® was created and trademarked to serve this need. These guitar kits were specifically designed to provide a unique and exciting community service project. During assembly, periodic inspections will ensure the guitars are built to precise specifications. In addition, teams will design and decorate a special white guitar box to reflect the unique personality of their Band. Our Build-a-Guitar® kits also include a tuner, audio cable, the guitar strap, picks, and even a personal amplifier! At the conclusion of the program, a local charity or school representative will address the group and thank you for your donation.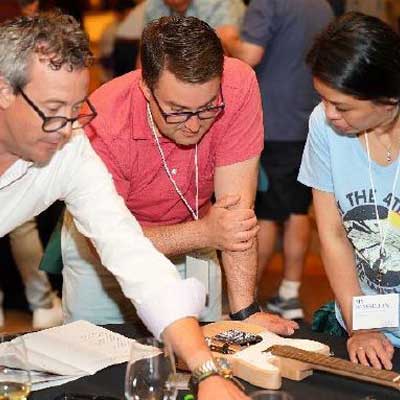 Become a Sponsor for the Community Service Projects
If you would like to be one of the sponsors for this year's community service projects, please contact Steve Wafalosky at
stevew@larichadv.com
or 440-247-1060.
Thank You to our sponsors