Spouse/Companion Program
Orlando, Florida is a fun destination and ELFA has planned some terrific activities for spouses. We encourage you to bring your spouse/companion this year.
A spouse or companion attending any portion of the convention or social function must be registered and pay the appropriate spouse/companion fee. If he or she is employed in finance, the full member attendee registration fee is due.
For your enjoyment during the ELFA Annual Convention, we are offering different packages for spouse/companion attendees. Choose the package that fits into your plans.
On the registration form, select the package or packages that best fit your plans, and include the appropriate fees with your convention registration.
Please note: Spouse activities this year are designed to be more interactive and encourage healthy movement. Please be sure to dress accordingly. Tennis shoes, shorts, and active wear are recommended.
Revolution Off Road
Monday, October 23 • 9:00 am – 3:00 pm

Revolution is a unique motor and water sport experience offering an affordable, exciting and achievable adventure in an informal fun setting, but with maximum regard to safety. Whether driving all-terrain vehicles, rallying or enjoying water sports, you don't have to be an expert—that's our job. We will guide you through your day at a pace to suit you.
They have 220 acres of some of the most picturesque land in Florida, a lake for water sports and purpose-built tracks and trails to give you the thrill of a lifetime. Add in modern boats, bikes, cars and an assortment of 4x4's, all kept in perfect working order, plus a team of qualified instructors whose paramount pre-occupation is to ensure that you are safe and have a great day, and you have the unique ingredients for our Off-Road Experience.
Participate in the following two activities: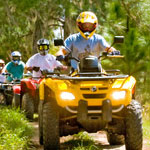 ATV's: Whether novice or expert, you are bound to have some fun maneuvering over the sand humps and grass banks and mastering the dirt tracks and trails on our automatic machines. But be prepared to get dirty—maybe very dirty—as you travel over our 230 acres of off-road terrain.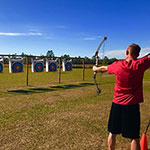 Target Archery: This amazingly addictive sport is growing rapidly by the year. Target archery is suitable for all groups of people.
Luncheon will be served at a reserved section of the park.
Wild Florida
Tuesday, October 24 • 9:00 am – 2:30 pm

A visit into the Florida Everglades will be the wildest adventure you experience in Central Florida. The Everglades start here! Enjoy a closer look at alligators and exotic wildlife as you glide through 4,200 acres of untouched nature preserve on an exclusive airboat ride. Experience a part of Florida that hasn't changed much from when early pioneers arrived in covered wagons in the 1800s. Climb aboard a U.S. Coast Guard certified airboat and catch a glimpse of alligators, eagles, turkeys, wild boars, roseate spoonbills and other native creatures. Or stroll through the Gator and Wildlife Park where you can see lemurs, sloths, zebras and other animals native to South America, Africa and Australia.
Luncheon will be serve at a reserved section of the park.